International Atomic Energy Agency issued the following announcement on May 29.
How can national nuclear institutions promoting nuclear technologies in their country enlarge their impact and increase their self-reliance? This is the question senior nuclear managers from across developing Asia attempted to answer at a meeting in Jakarta this month, kicking off a four-year IAEA technical cooperation project on assisting national nuclear institutions on increasing the sustainability of their operations.
"Many members of the public know little about nuclear technologies, and the way to win their support is to demonstrate the socio-economic impact, rather than just the science, of our work," said Djarot Wisnubroto, Chairman of Indonesia's National Nuclear Energy Agency (BATAN). "How to increase awareness about our work and promote our products is biggest challenge."
While BATAN's work programme includes top down targets in different areas, the activities need to be demand driven, he said. The development of new rice varieties and the sterilization of medical equipment using irradiation are examples of the kind of services in high demand. "Working with the private sector and having marketable services are key to our sustainability."
Mr Wisnubroto also spoke of the important role of young researchers can play in generating innovative ideas – both in science and in management.
"Well over 75% of the funding of nuclear institutions in developing Asia comes directly from governments," said Danas Ridikas, Head of the IAEA's Physics Section and the technical officer in charge of the new project, something that many governments in the region would like to see reduced. This share is significantly higher than in many developed countries, where institutions often sell services such as radiopharmaceuticals and irradiation of industrial products on the open market, he added. Nuclear institutions in several advanced developing countries in the region have also been able to generate substantial revenues from services they sell to the private sector.
Institutions can become more self-reliant through revenue generation, which includes not only the sale of services, but also the receipt of grants from government or other funding authorities based on the public services the institutions provide, said Fathi El Khangi, a management consultant from Sudan. "What is required is a shift at nuclear institutions from a focus on pure research to needs-based prioritization and stronger management of nuclear applications."
Clear mandate in support of development policy
To achieve sustainability, a nuclear organization needs to have a clear mandate that supports the country's national development policy, a passion for innovation, adequate human resources and funding, said In-Cheol Lim, Director of the Basic Science and Technology Department of the Korean Atomic Energy Research Institute (KAERI) in Daejeon, South Korea. KAERI's profile has evolved with the changing requirements of the government, moving from basic research in the 1950s and 1960s to supporting the introduction of nuclear power in the 1970s and the country's export-led development in the 1980s and 1990s. "The government always expected us to keep moving into new areas while transforming mature technologies to industry," he said. "To adapt to evolving needs has been crucial to our sustainability." Less than 30% of KAERI's budget comes from government subsidies – the rest is revenues from services sold to the government and to industry, he said.
The key to the success of this IAEA meeting is for national nuclear institutions to take home and implement ideas, methodology and approach generated at the successive workshops and advisory expert missions that will take place over the next four years, said Syahril Syahril, the project management officer in charge of the new initiative. "The IAEA will provide ongoing support to facilitate implementation," he said.
Original source can be found here.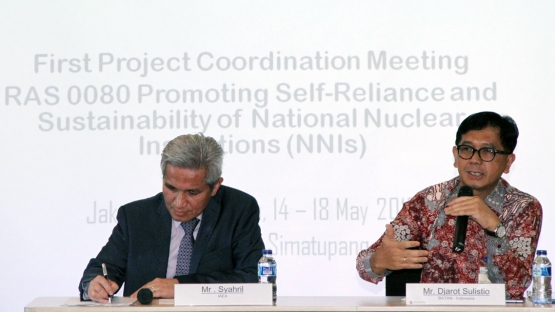 Source: International Atomic Energy Agency